May 27th, 2009
meets

meets

(
Collapse
)
Should you take any of these icons, please credit the proper maker.
Join
or
Watch
sinequaicon
Guess what? You know what all you amazing people out there in LJ land did for us today? You
made
our day by simply watching this community. All
100
of you!
Yes kiddies, iladora might have stolen my thunder (LOL), but we've reached 100 watchers!
PROOF: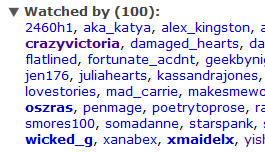 OBLIGATORY GIF:
And, now as a thank you to you all, here is a little graphic for you which you can display with pride, in the place of your choosing!
A big, big thank you to all of you! And be sure to take full advantage of this moment by making a request over
here
. Whatever you want, we will do!